Regular price
$2,189.89 CAD
Regular price
Sale price
$2,189.89 CAD
Unit price
per
Sale
Sold out
Card Personalization Software for multiple workstations sharing a common database.

Asure ID Enterprise enables multiple workstations to share a common database over a network, whether Asure ID is installed on a PC or a Windows 8 Pro Tablet. The advanced and intuitive card design processes provide a dramatic speed boost for designing card templates and entering cardholder data. With Asure ID Enterprise, you have everything you need to design and populate a card. Now you can easily capture or load a photo, or add a digitized signature with a couple of mouse clicks.
Key Benefits
Improved User Interface - Asure ID Enterprise has a user-friendly interface has a similar look-and-feel to the familiar Microsoft ribbon, allowing you to design and manage the creation of sharp photo IDs with minimal training.
Databases Demystified - Asure ID Enterprise comes with an internal database and a configurable Live Link plug-in, making it easy to print cards. from a common networked database for real-time data exchange.
Advanced Card Design - Asure ID Enterprise includes features like compound data fields, batch printing, conditional design and print rules, and password protection.
Low Maintenance - Asure ID Enterprise has built-in notifications about free software updates to ensure that the software is never outdated.
Robust Reporting Suite - Asure ID Enterprise enables you to filter, sort, and group data as needed to build custom reports that meet the needs of your business.
Specifications
Compatible with Windows 8 Pro Tablet

Password log-on with definable user privileges

Languages supported: English, French, German, Spanish, Russian, Portuguese, Simplified Chinese, Thai, Indonesian, Arabic, Turkish, and Czech

Networkable (Asure ID site licenses enable sharing of networked database information on multiple workstations)

ODBC import/export

Databases supported via Live Link (real time data exchange): Microsoft Access (2000, 2003), Microsoft SQL Server (2000, 2005, 2008, & 2012)

Fluorescing Panel (F-Panel) Support

Add compound data field

Add linear and 2D bar codes(PDF417, QR Code, and Datastripe)

Sheet and batch printing

Add magnetic stripe

Save and search records

Integrated photo and signature capture (TWAIN, WIA, and DirectShow)

Dual-sided template design and printing

Import images (e.g., logos and graphics)

Microsoft Excel and text file import/export

Add text and data field (variable and static)

Supports standard and custom reports that can be viewed in Asure ID or exported for easy distribution

Optional annual/multi-year support packages
Share
View full details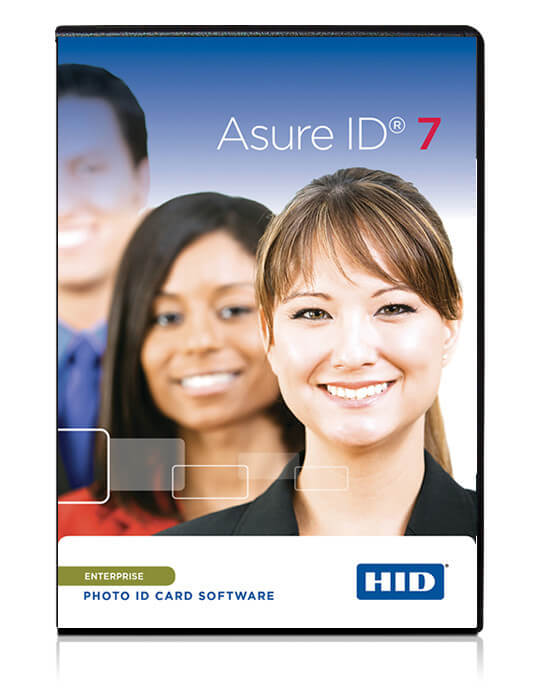 Shipping Information

All prices are in Canadian Dollars (CAD). At this time, E-CARD ID Products Ltd. only ships merchandise to locations within Canada and the USA. We ship via FedEx for dependable service and package tracking. Shipping time and costs vary depending on your location. Please contact us for more information.

Return Policy

It is the responsibility of the client to ensure you order the correct items. Items ordered in error will be subject to a 25% restocking fee, provided they are returned unopened.

Please check your package and report any discrepancies within 10 days of receipt.

A Return Authorization number (RA#) must be assigned to all shipments being returned to E-CARD ID Products Ltd. The RA# can be obtained by contacting an E-CARD ID (IDEXPERTS) representative. Each RA# can only be used once, for one shipment. RA's are canceled if not used within 30 days.

The RA# must be prominently displayed on the shipping label. If the RA# is not visible, the shipment may be refused. DO NOT place shipping labels or write RA# on the outside of the manufacturer's boxes. Re-box all returns in appropriate shipping cartons.

Return Authorizations will not be issued for:

- Software

- Opened ribbons

- Opened cards

- Used card printers

- Opened packages of accessories

- Custom items

Notwithstanding the above, at the discretion of E-CARD ID Products Ltd., we may agree to accept returns on certain products subject to a 25% restocking fee.