Regular price
$2,988.00 CAD
Regular price
Sale price
$2,988.00 CAD
Unit price
per
Sale
Sold out
View full details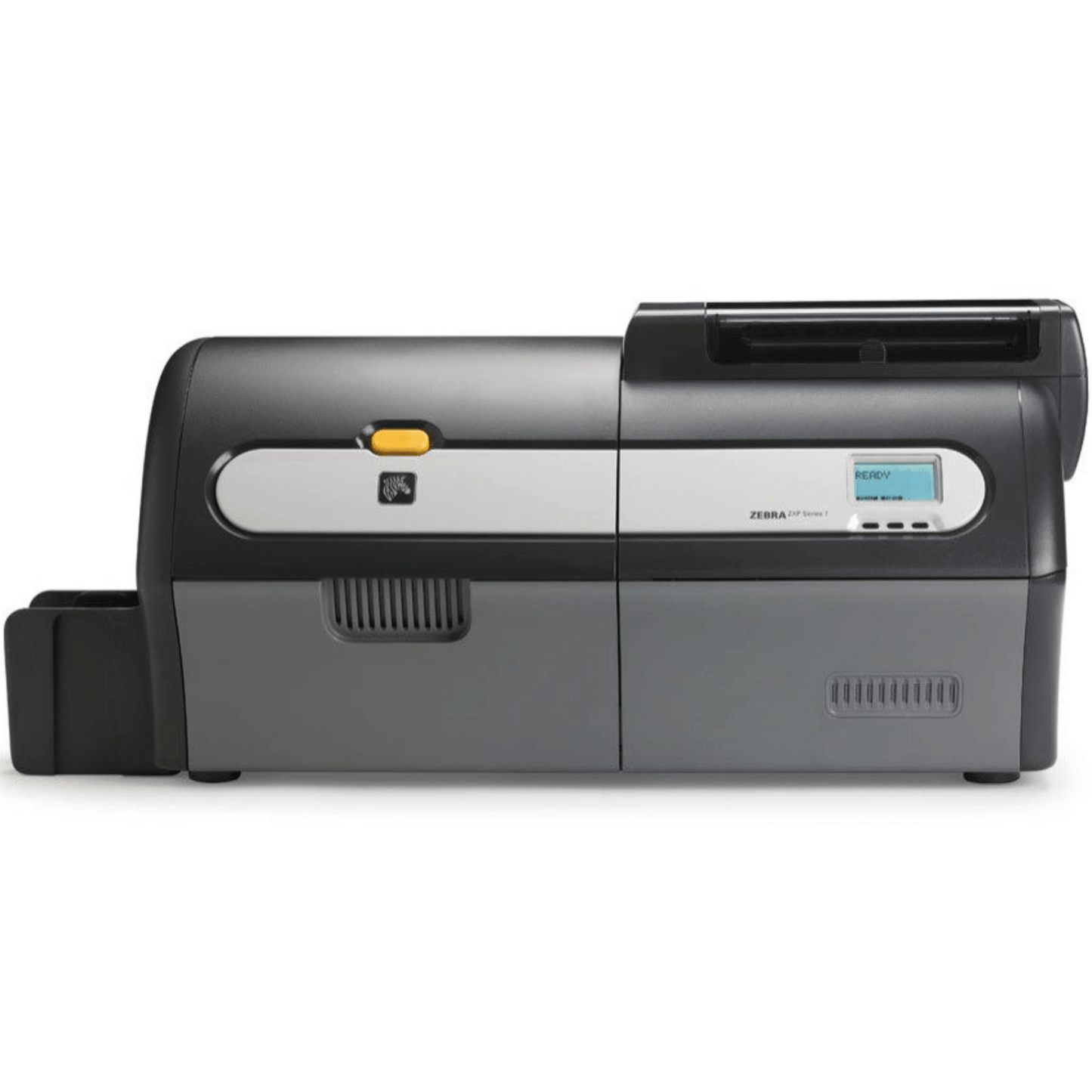 Zebra ZXP Series 7 Single- or Dual-sided Direct-to-card Printer

The Zebra ZXP Series 7 is the fastest direct-to-card printer on the market and is able to print out large quantities of cards, in a relatively short amount of time. The ZXP Series 7 can be used in a service bureau environment, or if speed of issuance is of the utmost importance to your organization. 
The printer's indication lights use different colours, as well as small illustrations to help you visually assess what the printer requires. The printer also has easy load rolls for the ribbon supply, which help eliminate any issues when changing supplies. A colour-coded slide out tray ensures that you'll properly load the supplies each time. 
The ZXP Series 7 consumables are designed to allow you to print badges quickly, with minimal changes. The supplies are some of the highest capacity in the industry and are designed for different printing scenarios.
The ZXP Series 7 printers are designed for printing large volumes quickly, and with regular cleaning (more than is recommended by the manufacturer), it will perform well over the lifetime of the printer. All printers purchased from E-CARD come with lifetime phone and email support, above and beyond the manufacturer warranty provided with the printer (and supported by E-CARD). 
 Print Speed

Single-sided monochrome black (K): 1,375 cards per hour
Double-sided monochrome black (K): 555 cards per hour
Single-sided colour (YMCKO): 300 cards per hour
Double-sided (YMCKOK): 225 cards per hour

Security (optional)

Magnetic stripe encoder: AAMVA and ISO 7811 (new and pre-encoded, tracks 1, 2, and 3, high and low coercivity)
ISO 7816 smart card contact station for third-party external contact encoders
Combined MIFARE® ISO 14443 A & B (13.56MHz) contactless and ISO 7816 contact encoder with EMV level 1 certification, and PS/SC compliance (supported over USB and ethernet)
EPCGlobal Gen 2 UHF RFID encoder

Card Capacity

200 card input feeder
100 card output stacker

15 card reject hopper

Connectivity

USB 2.0
10/100 Ethernet
802.11 b/g wireless (optional)

Cards and Thicknesses

CR80, ISO 7810, ID-1

10 to 50mil
PVC, composite, ABS, PET, PET-G, PET-F, PETix, and Teslin® composite
Contact and contactless smart cards
Adhesive-backed, signature panel, transparent cards with IR-blocker


If you require a configuration not offered online, please contact us directly at 1 888 983 2299 for a custom quote!
WARRANTY DETAILS
Two-year depot warranty (parts and labour), fully supported by IDEXPERTS® out of our Delta depot. Client is responsible for shipping printer to IDEXPERTS® (with provided case number), but warranty service includes ground shipping (uninsured), back to the client.  
Shipping Info

All prices are in Canadian Dollars (CAD). At this time, E-CARD ID Products Ltd. only ships merchandise to locations within Canada and the USA. We ship via FedEx for dependable service and package tracking. Shipping time and costs vary depending on your location. Please contact us for more information.

Return Policy

It is the responsibility of the client to ensure you order the correct items. Items ordered in error will be subject to a 25% restocking fee, provided they are returned unopened.

Please check your package and report any discrepancies within 10 days of receipt.

A Return Authorization number (RA#) must be assigned to all shipments being returned to E-CARD ID Products Ltd. The RA# can be obtained by contacting an E-CARD ID (IDEXPERTS) representative. Each RA# can only be used once, for one shipment. RA's are canceled if not used within 30 days.

The RA# must be prominently displayed on the shipping label. If the RA# is not visible, the shipment may be refused. DO NOT place shipping labels or write RA# on the outside of the manufacturer's boxes. Re-box all returns in appropriate shipping cartons.

Return Authorizations will not be issued for:

- Software

- Opened ribbons

- Opened cards

- Used card printers

- Opened packages of accessories

- Custom items

Notwithstanding the above, at the discretion of E-CARD ID Products Ltd., we may agree to accept returns on certain products subject to a 25% restocking fee.