Regular price
$2,188.00 CAD
Regular price
Sale price
$2,188.00 CAD
Unit price
per
Sale
Sold out
View full details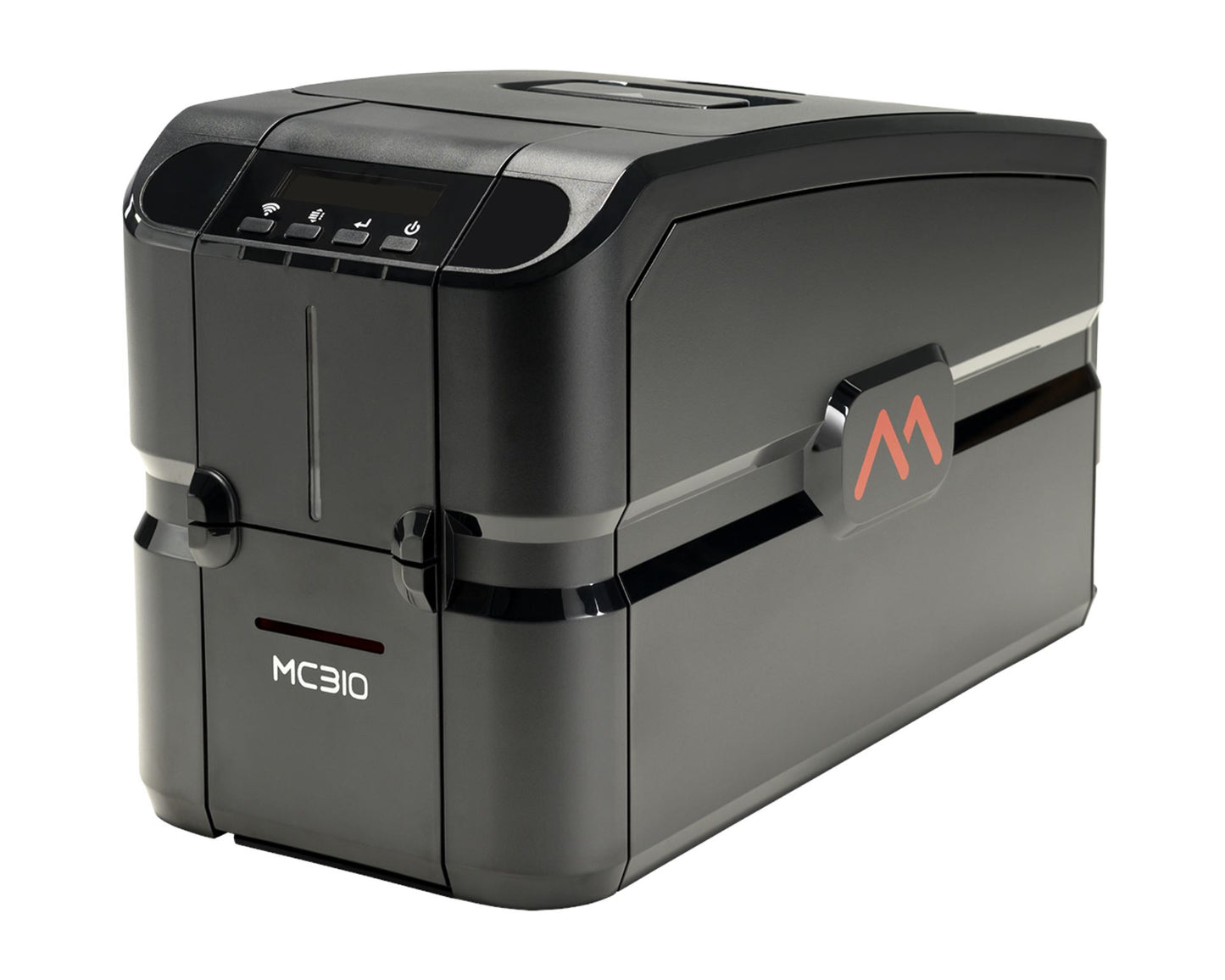 Matica MC310 direct-to-card printer
OVERVIEW
The Matica MC310 direct-to-card printer is a lightweight, speedy, and versatile card printer perfect for high volume issuance and quickly printing cards at any moment. With numerous optional security card encoding options, the ability to connect with Matica's MC-L2 inline laminator, and an extensive feature set, the MC310 integrates seamlessly into the needs of any company.
With its exceptional print resolution and sharp, vibrant colours, the MC310 ensures that every card you produce is visually striking and professional. The MC310 build sturdy with a reliable, robust design that is small and compact to fit into any environment. Its user-friendly interface features an LCD design and intuitive software display, making the MC310 an easy-to-use printer.
The Matica MC310 Card Printer offers countless features, making it a versatile solution for various card printing needs. It supports multiple card sizes and materials, including PVC, PET, and composite cards, providing the flexibility to cater to different requirements. With numerous possible customizations, partnered with its durability and versatility, it is no wonder why the MC310 is one of the top card printers on the market, meeting the requirements of even the most demanding, high-volume workplaces.
All printers purchased from E-CARD come with lifetime phone and email support, above and beyond the manufacturer warranty provided with the printer (and supported by E-CARD). 

 Print Speed

Monochrome black (K): 850 cards per hour
Colour (YMCKO): 180 cards per hour

Security (optional)

Dual-interface smart card encoder: contact chip, or contactless
Magnetic stripe encoder: ISO7811

Card Capacity

100 card input hopper
30 front/80 back card output hopper


Connectivity
Cards and Thicknesses

ISO CR-80, CR-80 PVC, PVC-C, re-writable cards
10mil to 50mil

If you require a configuration not offered online, please contact us directly at 1-888-983-2299 for a custom quote!
WARRANTY DETAILS
Four-year depot warranty (parts and labour) on printer with use of ChromXpert® ribbons, fully supported by IDEXPERTS® out of our Delta depot. Client is responsible for shipping printer to IDEXPERTS® (with provided case number), but warranty service includes ground shipping (uninsured), back to the client.
Shipping Info

All prices are in Canadian Dollars (CAD). At this time, E-CARD ID Products Ltd. only ships merchandise to locations within Canada and the USA. We ship via FedEx for dependable service and package tracking. Shipping time and costs vary depending on your location. Please contact us for more information.

Return Policy

It is the responsibility of the client to ensure you order the correct items. Items ordered in error will be subject to a 25% restocking fee, provided they are returned unopened.

Please check your package and report any discrepancies within 10 days of receipt.

A Return Authorization number (RA#) must be assigned to all shipments being returned to E-CARD ID Products Ltd. The RA# can be obtained by contacting an E-CARD ID (IDEXPERTS) representative. Each RA# can only be used once, for one shipment. RA's are canceled if not used within 30 days.

The RA# must be prominently displayed on the shipping label. If the RA# is not visible, the shipment may be refused. DO NOT place shipping labels or write RA# on the outside of the manufacturer's boxes. Re-box all returns in appropriate shipping cartons.

Return Authorizations will not be issued for:

- Software

- Opened ribbons

- Opened cards

- Used card printers

- Opened packages of accessories

- Custom items

Notwithstanding the above, at the discretion of E-CARD ID Products Ltd., we may agree to accept returns on certain products subject to a 25% restocking fee.