Regular price
Sale price
$76.89 CAD
Unit price
per
Sale
Sold out
Magicard cleaning kit includes 10 cleaning cards for cleaning rollers, and 1 print head cleaning pen.
Just like anything in an office, printers can get covered or filled with dust and tiny debris. As a result, the printer might not print as well, cards can not get pulled through the printer properly, or even get stuck. Therefore, proper printer maintenance is crucial for keeping your printing solution running smoothly, and can prevent more severe issues down the line.
Compatible with the following printers:
Enduro/Enduro Duo
Enduro+/Enduro+ Duo
Rio Pro/Rio Pro Duo
Rio Pro 360
Part number: 3633-0053
Share
View full details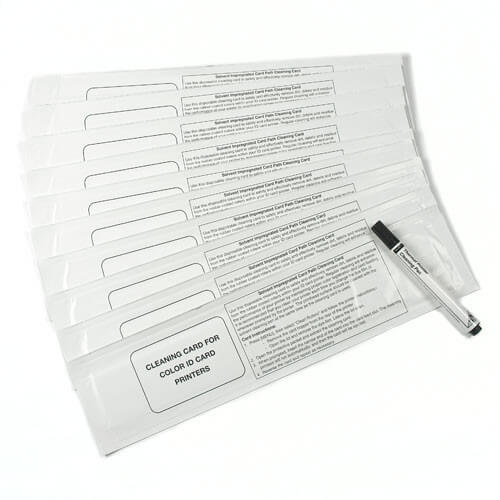 Shipping Information

All prices are in Canadian Dollars (CAD). At this time, E-CARD ID Products Ltd. only ships merchandise to locations within Canada and the USA. We ship via FedEx for dependable service and package tracking. Shipping time and costs vary depending on your location. Please contact us for more information.

Return Policy

It is the responsibility of the client to ensure you order the correct items. Items ordered in error will be subject to a 25% restocking fee, provided they are returned unopened.

Please check your package and report any discrepancies within 10 days of receipt.

A Return Authorization number (RA#) must be assigned to all shipments being returned to E-CARD ID Products Ltd. The RA# can be obtained by contacting an E-CARD ID (IDEXPERTS) representative. Each RA# can only be used once, for one shipment. RA's are canceled if not used within 30 days.

The RA# must be prominently displayed on the shipping label. If the RA# is not visible, the shipment may be refused. DO NOT place shipping labels or write RA# on the outside of the manufacturer's boxes. Re-box all returns in appropriate shipping cartons.

Return Authorizations will not be issued for:

- Software

- Opened ribbons

- Opened cards

- Used card printers

- Opened packages of accessories

- Custom items

Notwithstanding the above, at the discretion of E-CARD ID Products Ltd., we may agree to accept returns on certain products subject to a 25% restocking fee.